How I Got Here (Part III) -

Should Whites Have a Homeland

?
Although much of this article is devoted to the development of my worldview since I became 911 aware, it is also laying down the foundation as to where rational, Jew-aware, White People can have a reasonable expectation to have a homeland based on their ethnic heritage. The narrative will follow my own awakening process to the fact that there is a New World Order, covertly being implemented and that New World Order is the product of Jewish brains and for the ultimate benefit of those people who call themselves Jews...
It follows the basic methods to getting them in, pretty near, full control of the world, albeit, in a covert manner with the objective being to become so powerful, they can openly crown a Jewish messiah, anti-christ for us all to bow down to, worshipping and obeying as the proper slaves we are. One reason why this covert entity is so hard to address is the illusiveness with which it operates. Misdirection is it's MO and is so effective that even folks who think they have been "red pilled" don't realize that they have to swallow the whole thing in order to see the subversion in all it's naked reality...
Another reason that this all is so effective is that many of the things the deludes need to see involve their own mind control and seeing other people's mind control is much easier than seeing your own. They will have to see, in a blunt cold fashion, the parts of the JWO they, themselves, have adopted and discard it knowing it is not their own.All the goodies that go along with all the tyrannies
The Jew has his hooks in every corner of the world. Much of that was accomplished through financing explorations, in the middle ages, for better trade routes to connect with his international brethren far away. The Jew, in order to get the great White Race to help in this endeavor, had to invent a whole set of rationales to make the idea attractive to the animals who look like humans in order to please the Jew (goy) (any non-Jew- in this case-White Man).....
In this effort to discover better trade routes, the discovery of new lands took place which then paved the way for the revitalization of culture exploitation and the slave trade and, again, the Jews had to give his lesser brethren, white friends, palatable reasons to help him accomplish all of this. He had to make him believe colonialism was a "right" of the powerful to rule the weak, all the while pretending he, the Jew, was simply an innocent bystander observing it all and the White Man was that power....
How I Got Here

Part III
In "parts" I and II, I described, in a superficial way, how I went from being a typical all-American white boy in the New South to being a Jew-wise goy running the website "Blindlight". In part III we will endeavor to follow my evolution from the period, in the summer of 2011, to now, starting when I first understood the fact that 911 was an "inside job" and we'd been lied to.....
Immediately after hearing and accepting the theories laid before me about who and what was behind 911, I, of course, gravitated to figuring out what made the NWO tick. I quickly understood that this entity called the NWO was behind all the major wars, that their power was international in scope making the idea of "countries" an illusion for the "governed" to believe in so they could be more easily controlled. This was easily accomplished because originally they were separate countries in fact.
I can say I was more attracted to David Icke and the MK Ultra crowd than to the Alex Jones style though I had no reason to believe Alex wasn't legit and that Icke first headed me towards the Jews, in a gatekeeper sort of way, by pointing out Rothschild Zionists, which was a 90% Jew crowd to any discerning eye....
Though infiltrators in the movement were discussed, I had no clue to how prevalent it was, so, whenever something didn't make sense, I attributed it to human error. This was easy enough for me to do since I had been coming up with that answer for the previous 40 years with all the idiocy going on I had noticed.
Of course, once the Jewish dominance of communism was realized, I really started to take my inquiry beyond the present day. I would say that within nine months of my first realization that 911 was a con job, false flag, WWE event, I was on my way to outing the Jews in all their glory and committed to giving the Jews the credit that they deserved (which they were avoiding acknowledging like the plague).
From Jewish Bolshevism to redefining who Hitler was and to challenging the holocaust narrative, I became ready to go even deeper. This all happened in a very short period of time but I was soon to realize that Jews were behind all revolutions from the English Revolution onwards.
Dutch=Jews in the 17th century
This took me 500 years back, at least, as to when the beginnings of the New World Order was that I could now properly call a Jew World Order. At this point, I spent the next two years being pretty happy with that level of depth in the subversive agenda and simply went about communicating that, as well as doing research that amplified these findings....
At some point I put two and two together upon hearing that verse from the Talmud saying if a Jew had to commit evil, he should do so somewhere else to accomplish it. That phrase was one of the ones that got me questioning if in fact the Talmud was a political handbook rather than any real sort of religion. Condoning evil doesn't sound like religion to me (I soon figured out that it was, Judaism, a secret society hiding behind race-very diluted, religion and persecution- they have always been the persecutors).
This, I quickly linked to the whole mindset surrounding colonialism and quickly learned that much of colonialist notions were in fact linked to the Jew. I heard that British-Israelism was actually a Jewish planted notion of linking the goy with colonialism in a way to make it feel like it was their idea through a religion psyop....
Still feeling like there were holes in my narrative, I kept my eyes open for events, hundreds of years ago, that would fill in the gaps. I started looking into the "Thirty Years War" and realized that it was a religious war surrounding the reformation era led by ideologists such as John Calvin and Martin Luther and ravaged Germany, horribly. I learned that it occurred at the same time as the English Revolution which, too, was catalyzed by religious bickering....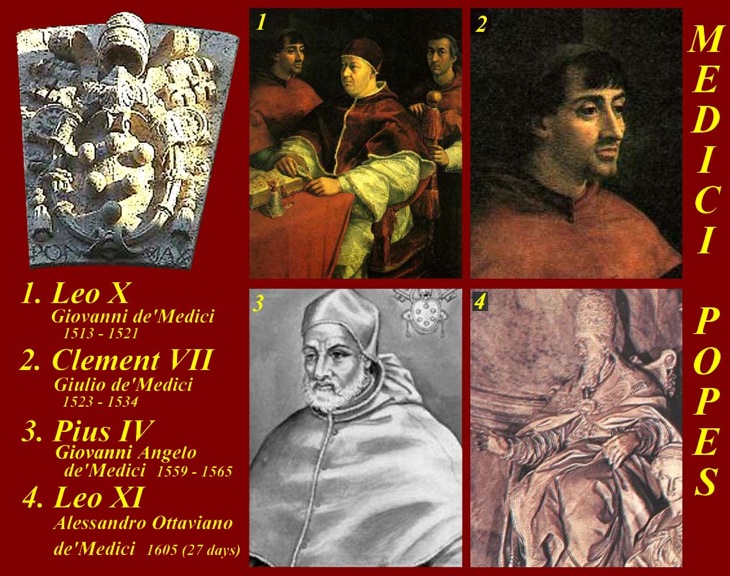 Interestingly, it was a PDF by Miles Mathis that took me in much deeper to that whole period. Miles Mathis is a person in which you have to pick and choose from what he presents as to whether you find it valid or not. In this case, he filled in a lot of missing pieces surrounding Martin Luther, the Medici's and how it was one big, tangled mess with the Jews, the Catholics, the Jesuits, the Protestants and the fact that the Medici clan, who actually had several popes (4), were likely crypto-Jews. That conclusion was drawn by noticing that Jews thrived when the Medicis were in power and suffered when they were out of power and since this went on for four hundred years, the cohencidence was too big not to link....In a nutshell, the first Medici pope was, shall we say, very Jew like, in his deviant behavior, acting out. This laid the groundwork for Martin Luther to post his complaints about Roman Catholicism which is credited with the beginning of the Protestant Reformation in 1519 (Jews claim credit for undue influence over Martin Luther during this time). This soon led to people like fake goy, real Jew, John Calvin reinventing Christianity in a more Jew-like way. All the new religions undermined the Catholic church's power and enhanced the Jewish power by the adoption of covert Jewish ideas in supposedly Christian interpretations....
Another Cohencidence or two actually, the original Illuminati (1)formed in Spain in, you guessed it, 1492, the same year of the Inquisition and Jewlumbus's sailing to the New World to pick up some Indian slaves. Then, Ignatius Loyola, a Marrano Jew formed the Jesuit order (2), basically, an op that was the intelligence organization in support of the Catholic church. They were a major part of the "Counter Reformation" without which there would have been no Thirty Years War or English Revolution. In fact, it is the seeing of the Jewish hand on both sides of the battle and also in its financing and being left unscarred, that gives clear signs of a Jew World Order in existence well back into the 15th century...
Five Members of the Utrecht Brotherhood of Jerusalem (

Pilgrim

s

)
What is not addressed at all by scholars, as far as I am aware, is how necessary the successful rebellion of the Lutherans, Protestants, etc to the Catholic church was in finding willing participants to partake in the corresponding colonialist efforts occurring at the same time (It all goes hand in hand-linked together). As I explained earlier, colonialism is Jewish and one can look at the history of colonialism or new world exploration and link it to Jewish power centers everytime. Many are aware that Portugal and Spain were the centers of Jewish power till the 17th century and until the 17th century, Spain and Portugal dominated the colonialist agenda, at one time making a document stating that all areas east of a line were Spain's and all areas west were Portugal's...
What is also clear is that though Jews were being kicked out of many countries during this period, their power of purse always found them a home nearby. I used to believe that the Renaissance occurred because of the removal of Jews but have since been persuaded that Jews were always around and were perhaps the most influential actors during this period. In fact, I am willing to say that the Renaissance was the initial seeding process necessary to develop the Jew World Order we have come to know and live with. The ideas that sprung from that period, led the way to both colonialism and the reformation, as I have pointed out, both Jewish subversion methods....
For Jews to control the world, it was, first, necessary to control the economy of all lands and thus the need for colonialism.The JWO is based on a communistic mentality that unless you gain control of the society monetarily, the conditions to make Jewish subversion appealing would not manifest. The Protestant Reformation was necessary to remove the primary Catholic focus from being on Jewish penetration to that of Christian subverters. The Jews were quite happy not to mention that the Christian subverters were led and controlled by Jews just as the bolsheviks didn't feel the need to tell the Russians that a communist utopia could only be accomplished under Jewish rule. (3) Let's save the goy from these complicated details, eh?...
Are you getting the feeling of how it's all connected, all these various subversion programs? The Puritans landed in New England and had to decide if Hebrew would be the official language. Indentured servants, black and white were brought to Virginia to service the exploiters and then the blacks earned slave status when it was seen that the two would join together against the elite agenda if they were not turned into enemies. Thus, White Supremacy was born. These goyim, willing participants were also needed to incur themselves into Indian territory causing a friction the Jews needed if they were to gain control of all of America, so either conditions were created to force it or propaganda was served to make it look like the right thing to do- "Go west young man go west!" (and take over more Indian land)...
I say Colonialism is Jewish because there is little evidence of white countries, uninfluenced by Jews, participating in exploiting lands far away from their own. Even the Vikings were invading adjacent lands as opposed to far away lands. So, again, all of this is tied together.
The appeal of Protestantism was the fact that it removed godlike status from the Pope much as liberalism removed god-like status from the goy kings that were also or soon to be attacked in what were called revolutions of the people. Removing god-like status from prime Jewish enemies was "good for Jews". They were actually organized psyops. All of these things were psyops as their stated intentions were never the real aim of the creators (Jews)...
The far-seeing, subversive Jews were happy to introduce foreigners into goyim communities as slaves plus, they made big bucks as they did it! They were happy to introduce it while pretending it was the white man doing the introducing, such is the generosity of the Jew....
Much is made of this colonialism occurring because of the persecution going on in Europe. Mostly Jewish caused wars invented through creating a discontent previously not there, a Jewish specialty. So the goy learned a set of new dogmas to believe in which created enmity with the old dogmas left behind. As I said, creating discontent where there previously was none is the MO by which Jewish subversion is accomplished while always keeping the Jew hand in the shade. Before pursuing the white homeland, privilege question let us remind ourselves the mindset that is behind this NWO run by Jews....
In their "protocols", the document most cited as being an accurate protrayal of the Jewish worldview when it comes to carrying out a JWO MO, the Jews acknowledge that Jew rule is good for Jews and not good for non-Jews. They evoke a Talmudic chosenous mindset to justify their subversion against all these host societies by claiming to be God's chosen people and a more evolved being. They come right out and state that they need to control the mental processes of the goyim and to do so by erasing inconvenient history and promoting convenient history while making shit up as they go...
They acknowledge that all the isms invented by Jews are actually subversions perpetrated for one goal in mind, garnering more power for Jews and inevitably getting to the point that they can rule over all non-Jews as Jews. No speech will be allowed under their overt rule that they consider subversive, no behavior tolerated that undermines their aims. Of course, their advocacy to this point has been the exact opposite of that and that is because they aren't in overt control but covert control, so everything is done by sleight of hand. When they attain full power, that will no longer be necessary...
Colonialism or exploitation of weaker cultures has been one of the major MOs by which this has been accomplished. Because the Jew is doing so, covertly, it is you, white man, that gets the credit and more importantly the blame for invading foreign lands for the purpose of exploiting and disuniting the natives from what was theirs to begin with.... The Jew World Order has convinced you, White Man, that it is your desires and your knowledge that has caused this and encouraged you to own that.
Contrarily, white man, you have found your importance to the Jew was never more than a temporary convenience for him to exercise and all these myths that make up your white superiority mindset are now being turned on you as Jew exposes these myths for all the other non-Jew goyim to see and to react to....
The white man, even the red pill buyers, are playing right into the Jew's hand by not seeing the con but instead, complaining about this new form of persecution. Oh, you have always been persecuted, White Man, by the Jews, but you never knew it. You didn't know that constant European bickering back and forth was a result of Jew manipulation so, in other areas like colonializing Africa or America, you continued to be his doofus. Not until now have you started to see that you were invited over to a Jewish supper in which it is you who are to be eaten, not the Negro, or the Aboriginal or the Indian of which you helped build the fire to eat, before, for the Jew but you and you don't like it....
It is no longer in the Jew's interest to spoil you, white man. You are becoming cumbersome, a burden to hold up and you are now the main target to be shot to progress further in his JWO.You have half-notions of what is fair and just, always colored by a self-serving internal dialogue that never considers any other race but your own and the Jew thanks you for that. It makes it easier to hit your targeted ass that way....
But now the reaction from the supposed leaders of the great White Race is ethnonationalism. An Ethno-nationalism that is good for whites and impossible to accept for anyone else but tell me....
If the JWO was built through colonialism and you, White Man, want to rectify this and tear this JWO down, how can you let your colonialism prizes, he gave you, stand? Guess what, White Man, you can't! This is why we can't target the Jew at this time because we are defending while complaining much of the "order" that he has created and much of that "order" is built on colonialism, slavery and exploitation of the "unprivileged".
Yes, you White Man, have had much white privilege being the Jew house nigga for so long. Sure you got punished some along the way but you had it better than anyone else. Is there Jew privilege? It's not for the goyim to determine or think about whether Jews have privileges. Of course, those that rule over us have different standards with which to be judged and can only be judged by their peers. White Man, you are not the Jew's peer, you are his slave as are the other goyim and you have been fighting all along for Jewish crumbs brushed off from above...
You, White Man, goy, think you are equal to the Jew but are not. You, White Man goy, could have easily been the colonized, in fact, were but it happened so long ago, you don't remember, as it is much the same reason that the English Revolution does not get the respect it deserves. When talking about others, such as the French and Russian Revolutions, time hides the subversion and the English forget they were the first...
It is necessary, however, to realize that your barbarian selves, long ago, were colonized by a society more powerful than yours and you became one with it. It is this commonality, that all you white Europeans with ancestors from white European lands, were colonized and slaughtered, that bonds you with those whom you exploited later..... With the knowledge house Niggaz are still slaves, you, White Man, should have more in common with your gentile brothers whom you exploited in Jewish service than your Jewish masters who exploit us all, including you and that knowledge should be able to create a unity, once it is recognized.
Many of you now, long for those olden times while at the same time proclaiming your "rights" to America, to Australia, and to areas of Africa. You see what you want to see and don't see the exploitation of others you expect to keep for yourselves because as a race that pretends greatness but can't see the forest fo the trees, you are anything but great and see what's convenient to see.
As long as you hold onto the privilege that claims your participation in Jewish colonialism is ok but any other forms of colonialism being exerted against you is not ok, you are still living the life of an expendable pawn in the grand Jew game of universal chess... If you wish to see the forest, you will see that colonialism is Jewish subversion. If you wish to see the forest, you will see that the Islamic invasion is Jewish colonialism in disguise. If you truly wish to bring down the JWO, you have to bring down the Jewish taught mindset that it is ok to exploit people different and weaker than you now that you see that you are being exploited as different and weaker, too....
Now I hear over and over the need for white homelands to be established. What I am going to say may not be what you want to hear for, as weak minded whites ,you identify history from the moment whites take over an area and, by the doing, you can claim the interests of the Indian or the African are irrelevant. The Jew has taught you well. Are you ready to unlearn it now? If you aren't, you aren't ready to fight the Jew World Order and will continue being slaves....
My conclusion on this, therefore, is, of course, you whites need your own homeland. You all need to go back, if you only want to live amongst your own before colonialism raised it's ugly Jewish hand, back to Europe, the birth of White Caucasians. You have a right to rule Europe in unified fashion or as varying countries if you wish. You don't have a right to claim colonialized land stolen in service to the Jew. This gives America back to the Indian. Those in charge of a country have the right to be inclusive or not. What the Indians decide to do with the land rightfully returned to them is their decision, as it is yours in Europe and Black's right in Africa...So, to finish, anyone fighting the NWO that realizes it is, at its core, Jewish must be willing to roll back all the steps in the JWO formation, convenient or not.
Now, white people, show me what a great race you are. Talkin ain't doin!
Illuminati Order was not invented by Adam Weishaupt, but rather renewed and reformed. The first known Illuminati order (Alumbrado) was founded in 1492 by Spanish Jews, called 'Marranos,' who were also known as 'crypto-Jews.' With violent persecution in Spain and Portugal beginning in 1391, hundreds of thousands of Jews had been forced to convert to the faith of the Roman Catholic Church. Publicly they were now Roman Catholics, but secretly they practiced Judaism, including following the Talmud and the Cabala. The Marranos were able to teach their children secretly about Judaism, but in particular, the Talmud and the Cabala, and this huge group of Jews has survived to this very day. After 1540 many Marranos opted to flee to England, Holland, France, the Ottoman empire (Turkey), Brazil and other places in South and Central America. The Marranos kept strong family ties and they became very wealthy and influential in the nations where they lived. But as is the custom with all Jewish people, it did not matter in what nation they lived, their loyalty was to themselves and Judaism.
"The following information is going to be a 'shock' to all Roman Catholics. In 1491 San Ignacio De Loyola was born in the Basque province of Guipuzcoa, Spain. His parents were Marranos and at the time of his birth the family was very wealthy. As a young man he became a member of the Jewish Illuminati Order in Spain. As a cover for his crypto-Jewish activities, he became very active as a Roman Catholic. On May 20, 1521 Ignatius (as he was now called) was wounded in a battle and became a semi-cripple. Unable to succeed in the military and political arena, he started a quest for holiness and eventually ended up in Paris where he studied for the priesthood. In 1539 he had moved to Rome where he founded the 'Jesuit Order,' which was to become the most vile, bloody and persecuting order in the Roman Catholic Church. In 1540, the current Pope Paul III approved the order. At Loyola's death in 1556, there were more than 1000 members in the Jesuit order, located in a number of nations.
14. When the populace has seen that all sorts of concessions and indulgences are yielded it,in the same name of freedom it has imagined itself to be sovereign lord and has stormed its way to power, but, naturally like every other blind man, it has come upon a host of stumbling blocks. It has rushed to find a guide, it has never had the sense to return to the former state and it has laid down its plenipotentiary powers at our feet. Remember the French Revolution, to which it was we who gave the name of "Great": the secrets of its preparations are well known to us for it was wholly the work of our hands.
15. Ever since that time we have been leading the peoples from one disenchantment to another, so that in the end they should turn also from us in favor of that king-despot of the blood of Zion, whom we are preparing for the world.
16. At the present day, we are, as an international force, invincible, because if attacked by some we are supported by other States. It is the bottomless rascality of the goyim peoples, who crawl on their bellies to force, but are merciless towards weakness, unsparing to faults and indulgent to crimes, unwilling to bear the contradictions of a free social system but patient unto martyrdom under the violence of a bold despotism - it is those qualities which are aiding us to independence. From the premier-dictators of the present day, the goyim peoples suffer patiently and bear such abuses as for the least of them they would have beheaded twenty kings.
17. What is the explanation of this phenomenon,this curious inconsequence of the masses of the peoples in their attitude towards what would appear to be events of the same order?
18. It is explained by the fact that these dictators whisper to the peoples through their agents that through these abuses they are inflicting injury on the States with the highest purpose - to secure the welfare of the peoples, the international brotherhood of them all, their solidarity and equality of rights. Naturally they do not tell the peoples that this unification must be accomplished only under our sovereign rule.