Before the US got it's "Belle Knox", AKA Miriam Weeks, Germany had it's Sibel Kikelli
Interesting Knox on her casting couch porn debut pushes mandatory vaccinations. Staged? Miriam's cutting and liking to be kept in a cage screams MK Ultra
About eighteen months ago, I explored the, what I call, "Bell Knox Psyop" with my readers. To remind, Belle or Miriam Weeks was a Washington State gal who enrolled in Duke and before the first semester was up, was doing triple x porn. This was picked up by the MSM and she landed on "The View" as well as "Piers Morgan" and many other news shows, basically treated as a barrier breaker by the Jew media in heroic fashion.
She declared herself a Libertarian who was for mandatory vaccination and a pro-sex feminist (she wants to feel totally free to swallow cum on camera). Here are the two main articles I have saved from that time period about her. Be forewarned, some of it has pornographic content.
I was thinking about that last night when I remembered there was a star in "Game of Thrones" whom it was claimed, did porn in early 2000.
Recall, GOT is the blockbuster, excellent Jew produced HBO series now in its 7th year of production. I have made my site theme based on Game of Thrones. This star who did porn is named Sibel Kekelli.
Personal life - Wikipedia
Kekilli was born and raised in Heilbronn, to a family of Turkish origin. Her parents came to Germany from Turkey in 1977, and were described by Kekilli as "fairly liberal" (Jewish). After completing school with excellent grades at age 16, she entered a 30-month-long combined training program to become a certified public administration specialist at the local city administration. After successful completion, she continued to work as administrative assistant for another two years at Heilbronn city hall, then moved to Essen, where she worked various jobs as a bouncer, cleaner, waitress, nightclub manager, saleswoman, and pornographic film actress.( Sounds like MK ultra training going on)
Kekilli lives in Hamburg.
Notice the clearly successful career path she was going, similar to Miriam Weeks and all of a sudden, she takes a seedy detour, again, similar to Weeks. Also similar to Weeks, in about one year, 2002, she makes about nine porn films and then is immediately discovered by someone who noticed her walk by and became a normal actress sensation right away!
Turkish-born actors Sibel Kekilli, left, and Birol Uenel pose during a photo call before the awarding ceremony at the Berlin International Filmfestival Berlinale in Berlin Saturday, Feb. 14, 2004. Fatih Akin's film Gegen die Wand ( Head On) was awarded with the Golden Bear for the best film. (AP Photo/ Jan Bauer)
The charming angelic-faced actress, who made a splash in the media during the Berlinale together with film director Fatih Akin and co-star Birol Ünel (photo, right), is being candid about her past. "Yes, I did make these (porno) films. But that's the past. What counts is the Golden Bear," she told Bild.
Intensive porn work for one year, just like Miriam Weeks. Dilara is a name Sibel uses
Here is her profile at "X-Videos"
of what she did for a year, again, it mirrors what Belle Knox was later to do in the US.
Wikipedia continues with her unlikely discovery in the normal acting world, or is porn considered normal acting now and the transition always fluid these days?
In 2002, while at a shopping mall in Cologne, Kekilli was noticed by a casting director, who invited her to audition for a role in a film.[5] She won the leading part in Head-On (German: Gegen die Wand) against a field of 350 other hopefuls. The film was released in 2004 and was a major success, receiving several prizes at film festivals. Filming proved strenuous for Kekilli personally, and she underwent an appendectomy during filming in Turkey.[6] ( on top of doing porn at the same time or compared to porn it was strenuous?)
Note, this "discovery" happened right when she was going full blast with porn, 2002. Then in 2006 she "plays" a Jewess (not sure she needs to play a Jewess because I believe she is one and why her last name is Kekilli - fake - and why we are not told her parents names)
Kekilli starred in the Turkish coup d'état film Eve Dönüş (2006), playing the wife of a man who was unjustly imprisoned and tortured. The performance won her the Best Actress award at the 2006 Antalya Golden Orange Film Festival. Also that year, she played a Jewish woman on the way to the Auschwitz concentration camp in the 2006 film Der letzte Zug (The Last Train). In 2009, she played Umay, a young Turkish woman who leaves Istanbul to return to her family in Berlin, in When We Leave (Die Fremde). She was awarded the Lola for Best Actress in 2010 for her role.[10] In 2010, Kekilli was cast as Shae in HBO's Game of Thrones, an adaptation of George R. R. Martin's A Song of Ice and Fire novels.[11]

In 2011, one year after first appearing in a supporting role in the long-running crime series Tatort, she became a permanent cast member as new investigator Sarah Brandt, working alongside chief investigator Klaus Borowski.[12] She said that she was glad not to be playing a character of foreign descent, as she feels she has been typecast in the past.[13]
Then guess what! Her political, Jewish fire comes out and she dresses down the Muslim culture (isn't there always a political agenda with these "crisis actors"?)
Political activism
Kekilli supports the organization Terre des Femmes in its work against violence against women.

In December 2006, at an anti-domestic violence event run by the Turkish newspaper Hürriyet in Berlin, she stated, "I have experienced for myself that both physical and psychological abuse are regarded as normal in a Muslim family. Sadly, violence belongs to the culture of Islam".[14] In response, the Turkish consul general left the room.[14]

In March 2015, Kekilli gave a speech on violence in the name of honor against women at a International Women's Day event at the President of Germany's residence at Schloss Bellevue. The speech drew wide attention and praise in Germany for its empathic message.[15][16][17][18] In May 2015, Friedrich Naumann Foundation named Kekilli "Author of Freedom" for the speech.[19]
Interesting to note, she implies her mom and dad were violent with her and that she is Muslim but Wikipedia does not name her parents. Is this a "staged" narrative and thus why the parents are being protected? Is this part of the anti-Muslim psyop that we need to be informed about from a porno-star? Is she Jewish here to undermine the goy and hiding that fact so as to give personal negative testimony about Muslims for who she pretends to represent?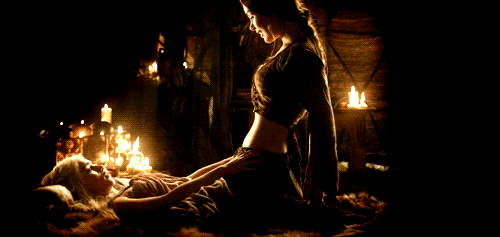 Khaleesi lesbian scene GOTOf course, it isn't much of a stretch for the producers of GOT to accept a porn star into their midst. Their shows are filled with unnecessary sex, men kissing, men sucking dick (implied), lesbian love. The only shows I have watched on HBO have all that as an automatic.
It's part of being free and liberated as we have the curtain pulled tightly around the Jew elephant in the room with new laws being made to address the unfair Jewish labeling issue they have to suffer.
All that said, let me reiterate, it is worth putting up with the Jewish programming, especially if you have Jewish programming under control in your mind, to watch this series. There are many metaphors that our movement can use within the various scenarios being presented. Maybe the best show I've ever seen. It's that good!
Before Sinead's nose job
Now, I would be remiss having touched on these slutty ops, being presented for our edification by the Jews, not to mention some issues, I have brought up in the past,a bit closer to home. Of course, I am speaking of Sinead and her Jewess harem of cuties telling you all about evil nigs and Muslims and those awful Jews while all holding out their hands for money in return.
Recall my mission to expose Sinead as an op last spring. Note my outing Evalion as a Jewess plant (Sinead has yet to prove she is not a Jewess by the way). Notice the Jew publicity for Evalion while at the same time a joining of hands between Evalion and Sinead with others, women in nature in the mix, here to Judaize you and why the Jew advertises their presence.
It's to Judaize the movement that Sinead does her VK Clark imitation of making a video solely about the bad behavior of WN men or her calling out degenerate WN faggots with clear photos of her rejoicing in the arms of nigger faggots a few years prior.
How does a person who used to pass out nude photos to famous people (Celtic Rebel) she wanted to hustle, get off lecturing anyone about morality? How does a person trading sex for drugs and thus being incarcerated in a psych ward at fourteen become the "conscience" of the movement? Well, I will tell you how. You have Jewish blood and Jewish handlers and Jewish op back up to support your con, as Evalion, Renegade and a whole slew of others have as well
Sinead's here to turn you into a Jew while pretending to fight "white genocide" Never forget or your people will be forgotten in the not too far distant future
Click this gif for video finish!