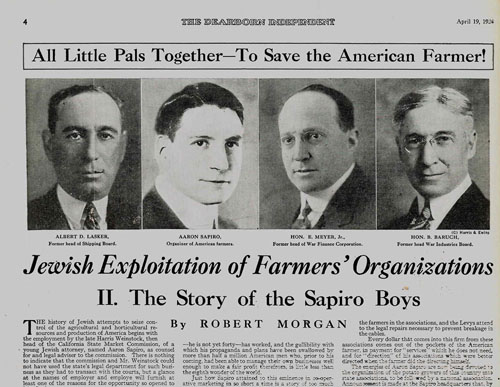 Suing Henry Ford: America's First Hate Speech Case
Author: Victoria Saker Woeste
This project examines a well-known event in the life of Henry Ford -- a 1927 federal libel lawsuit against him and his antisemitic newspaper -- from the perspective of the people who sought to stop him.
A young Henry Ford
In the end, Ford did stop publishing the Dearborn Independent, but on terms he controlled: he evaded the efforts of several distinguished lawyers to use law to compel him to take responsibility for what we today call hate speech. Ford was no champion of free speech rights; he managed to avoid losing the lawsuit by engineering a sleight-of-hand that took advantage of the diversity of views, politics, and intellectual loyalties among American Jews that Ford's newspaper so narrowly caricatured.
In 1924, to regain the public spotlight and burnish his image among American conservatives, Ford directed the Independent to resume an antisemitic campaign that had first begun in 1920 and lasted for two years. Playing on the crushing boom and bust cycles that plagued American agriculture after the war, in this second antisemitic campaign the Independent attacked the agricultural cooperative movement as alien to the individualist spirit of American husbandry. The Independent accused Aaron Sapiro, the movement's leader, of defrauding American farmers to advance an international Jewish conspiracy. Ford saw himself as the only legitimate champion of rural America; he targeted Sapiro both because he was Jewish and because he was not a farmer.
Sapiro and wife leaving court
Determined to silence Ford, Sapiro demanded a retraction. The paper replied with still more defamatory articles. In 1925, Sapiro filed a federal libel suit in Detroit, requesting $1 million in damages. For nearly two years, the defense tried fruitlessly to prove that the articles were true -- the only way a publisher could evade responsibility for libel. Ford's hired-gun trial lawyer, sitting U.S. Senator James A. Reed (D-Mo.), finally realized before the trial began that he could not defend this case on conventional grounds. He then changed tack, telling the press that the only issue was Sapiro's professional conduct, not Ford's antisemitism. Sapiro and his lawyer responded with the broader claim that Ford had libeled all Jews. Suddenly, the central issue of the trial was not individual libel but hate speech. That development was decidedly unwelcome to Louis Marshall, the prominent constitutional lawyer who was also president of the American Jewish Committee. Marshall believed that no individual should recover damages from attacks made on Jews as a group. For years, he had led the nation's leading Jewish defense organization to avoid litigating antisemitism unless it interfered with the civil rights of individual Jews. Mere insults, even published ones, did not meet this standard.
Reed and the Ford lawyers underestimated Sapiro and the strength of his case, and Marshall misjudged its potential for strengthening the civil rights claims of American Jews. Both because of the case's implications for the newspaper industry and because of the public's continuing fascination with Ford, editors across the country drew the rapt attention of their readers to each day's events in Detroit. The month-long trial produced banner headlines and bizarre moments. As the trial careened toward its end, Ford became desperate to end the suit and avoid taking the witness stand. He ordered his bodyguard, Harry Bennett, to secure a mistrial. Bennett planted an interview with a juror in a Detroit newspaper, producing the desired result. Ford then hurriedly dispatched emissaries to meet with Marshall, who agreed not only to mediate the conflict but also secretly to write Ford's statement of apology. Having criticized Sapiro for bringing litigation that he believed would only reinforce racist stereotypes, Marshall made sure that Ford's apology was directed not to Sapiro but to the Jewish people. Thus, though American law did not then recognize hate speech as such, Marshall got Ford to sign a public statement that did.
This victory, though historic, had limits. Marshall hoped to contain the spread of Ford's antisemitic publications, but no one could hold Ford to his promise to do so after Marshall died in 1929. The articles were published as a pamphlet entitled The International Jew that was widely reprinted around the world during the 1920s and 1930s and is now available on the Internet. Marshall unwittingly enabled Ford to duck responsibility for the damage his newspaper inflicted on Sapiro, Jews, and the nation's social fabric. Instead of earning a place in civil rights and hate speech history, the Sapiro-Ford trial has been relegated to a footnote in Ford's life story.
This book will argue that the most important fact about Ford's apology is not what it says. It is that Ford did not write it. No one but Ford, Marshall, and their closest advisers knew the truth. Consequently, the reaction to Ford's apology focused on its putative author's obscure motives rather than its implications for legal curbs on hate speech.
The drama of Ford's published attacks and the subsequent lawsuit forced all the major players out of their life-long roles. On this stage, everyone was miscast: Ford, the technocratic engineer and marketing genius, became a bumbling buffoon; Sapiro, whose professional and personal lives were pockmarked with broken relationships, acted bravely and heroically; and Marshall, the principled and distinguished advocate, handled the end game with surprising ineptitude. In the end, Sapiro v. Ford marked a lost opportunity in what has been the long and tortuous process of defining hate speech in American law.