More Weev Bullshit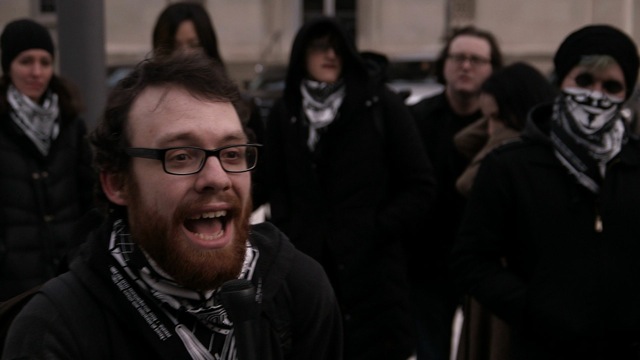 Look at all Weev's SJW supporters, many Jewish wearing some sort of unity neck scarf
So Weev attacks RamZ-Paul for being a Boomer today. In the process he made another denial campaign speech that he was not Jewish. In the effort he goes to the best known proof, an email his mother engaged in which said he was part Jewish and part Indian. She, too, implied she was Jewish at the end by asking the recipient if her rabi would do for a go-between. It is highly likely his mother is a practicing Jew.
Here is Weev's statement
Anyways, this era of memes resulted in the FBI trying to frame me for a threat to a synagogue. Seriously, an informant called in a threat to a synagogue and then they release my name and license plate saying they want to find me so they can investigate my connection to it. They never released the informant's name that actually made the call.

Anyways this resulted in me being doxed and lots of people attacked my parents. My parents did what Mike Enoch's family did, which did everything they could to signal against me. During this process, my mother claimed that I had a great-great grandparent that was Jewish. I took it at face value at the time and thought it was funny. It turned out not to be true, as /pol/ has gone through my ancestry to the early 19th century and found only Mennonites.
If this is all you have, any reasonable person would give Weev the benefit of the doubt but there are so many things about Weev's past that take enabling Jews to make public. Weev likes to Trumpet his jail time as proof of his punishment. Well, we know he disappeared for four months and then was back on the streets being interviewed by every Jewish magazine mainstream and alternative, starring in a Jewish produced and directed documentary about hackers. On his court date he has Molly Crabapple by his side and Luke Rudkowsky's cameras rolling ( with all this in his past, like a Jew who is playing a role and acting to the fullest, his recent, previous, Jewish ancestry denial got him to make the casual throw off remarks, "All Jews should be gassed"
(Taken off the old Stormer comment section)
What's super interesting is to note other cases where he nonchalantly claims he is a Jew, this when his target audience are Jew sympathetic. However he's very convincing here with both quote and link for back up
to brand me an anti-Semite is idiotic. I have no problem with any person solely because of their Semitic descent. Take a look at my last name, "Auernheimer". Think about the likely origins of this name for a second. Even a quick Google reveals its origins. The most famous Auernheimer of history, journalist and author Raoul Auernheimer, had his way bought from the fires of Dachau by his uncle, Theodore Herzl himself. Come on, I have curly hair and brown eyes here. The claim many "journalists" are making that I am some sort of Nazi is preposterous, but I suppose you have to resort to ad hominem when the public overwhelmingly supported me on the basis of the facts of the case."
So,what we have here is a Jew that communicates falsehoods to persuade, yea or nay decided by the current goal he has in mind. Finally, I have his Cupid "dating page" where he proudly claims to be a Jew roaming the night for aryan women to deflower..This is 2012, he's not a NAZI and I guess selling Jew ID helps him score?
This is why it is so important to see what a possible op says on one day and compare it to what he says on another day or another year and to what audience and how it lines up, in total,
Weev posted some links which are going to help me make my case he is a likely Jew getting Jew help
I want to end this with Weev bringing up being a Boomer as a way to defame. I pointed out about three months ago Richard Spencer's inclusion of what the alt-right was fighting were Boomers. In 20 things that it means to be alt-right, number 18 is a blame fest against boomers
18. The '68ers
The generation born between the years 1945 and 1964 abrogated its duty to safeguard and pass down a civilization to its children. The so-called "'68ers" engage in childish narcissism of the most extreme kind; they bear responsibility for today's lamentable state of affairs; and they are seemingly unable even to recognize their culpability.

A new generation of leadership is desperately needed.
I continue to see a great irony in the fact that a movement invented to insure the goyim never unite against the oppressors, "The White Nationalist, racialist" movement, spent so much time creating new frivolous ways for us to fight and bicker each other over.
Like it's my fault, the CIA had an evil plot to subvert the boomers with drugs, sex and violence. Like it's women's fault that they have been hearing since birth about all the rights they don't have. It's the blacks fault for after being brought over here in chains, they think they have as much right to be here as the white man whose relatives came often as indentured servants. It's the Indians fault for occupying the land that the exploiters needed for exploiting more of the world and it's the Musliom's fault for being blamed for 911 and the 5 false flags a week we now have.
What I am saying is the boomer controversy that came out of nowhere was likely orchestrated behind the curtain as has most of the rest of Spencer's movement and here, Weev complains about how unfair it is to believe he's an infiltator, he too adopt's the same divide and conquer language for all of these issues, to be honest, not just the boomer issue. Like a Jew, he turns a loss into a psychological win for his followers.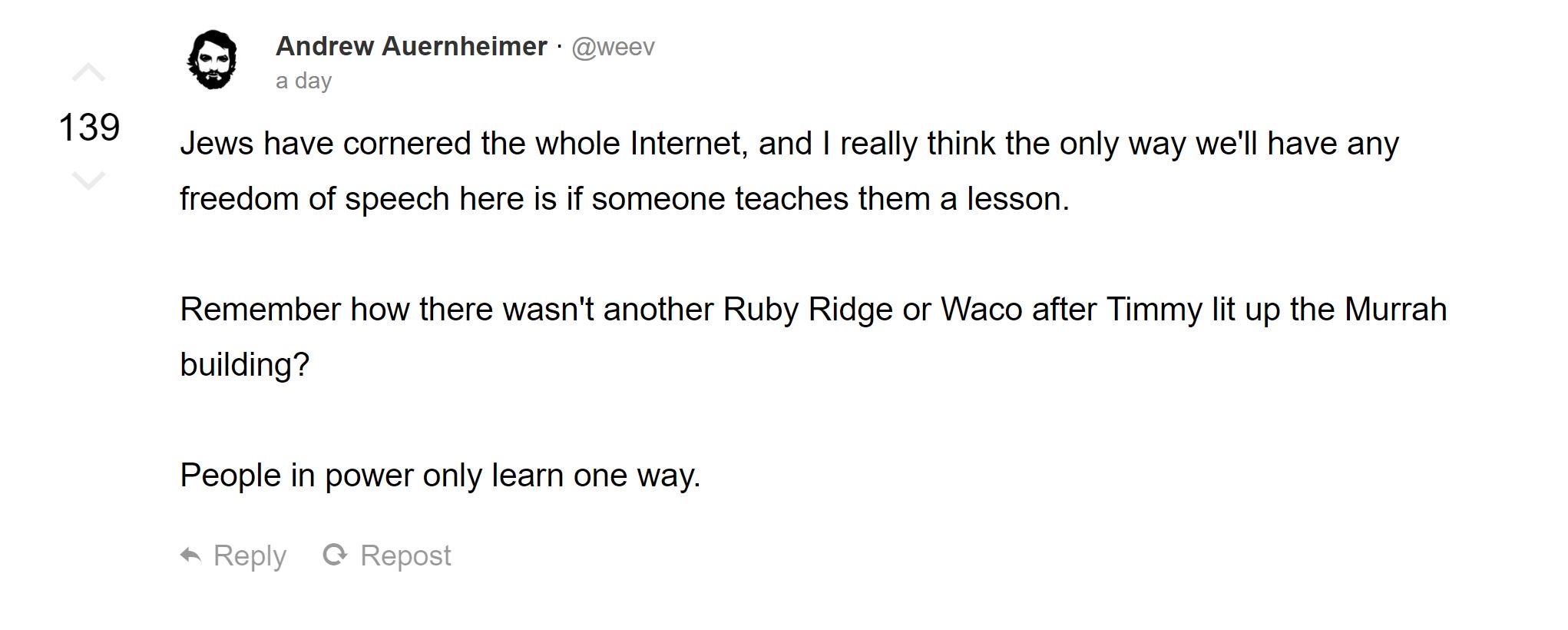 It's still a loss but his followers now have reasons to be proud of Oklahoma bombing as Weev cements in the "fact" that McVeigh was a disgruntled White Nationalist who got "payback" for whites. Can anyone see the loss for the pride in that loser scenario. Never mind it was false flagged against whites by the exploiters. Aurenheimer has no interest in that narrative. Never mind too, Aurenheimer has always been a Republican, known to be owned by the Jews as are the democrats and why we need a third way that he obviously doesn't want to get involved with
In the end, Weev knows that if he lies boldly and sells the moment, his audience won't worry about the details. Who he's lying to and what he is doesn't so much matter when you know he does it to everyone and like a Jew, he can sure blow his own horn

I am one of the major progenitors of today's Internet trolling culture, and cited by the world's largest alt-right site The Daily Stormer as a formative figure in what is now the modern dissident right. I am currently a political refugee in various parts of Eastern Europe after being imprisoned on false charges by ZOG. I am a crowdfunded political commentator for a living now (send me money I don't have no trustfund like Dickie Spence).

There are thousands of international media pieces mentioning me, both as a commentator and as a story, due to my involvement in dozens of major events, many of which shaped world history forever. I am the star of a featured length film titled The Hacker Wars. There dozens of songs written about me and one is on a Billboard top ten album. I am the subject of entire chapters of various books put out by respected academics. I have not yet begun to cause trouble.
I never argued he wasn't a good salesman. I just don't trust him or his moral compass