Luckily for Boers in SA, Russia doesn't have an anti-White policy - Blindlight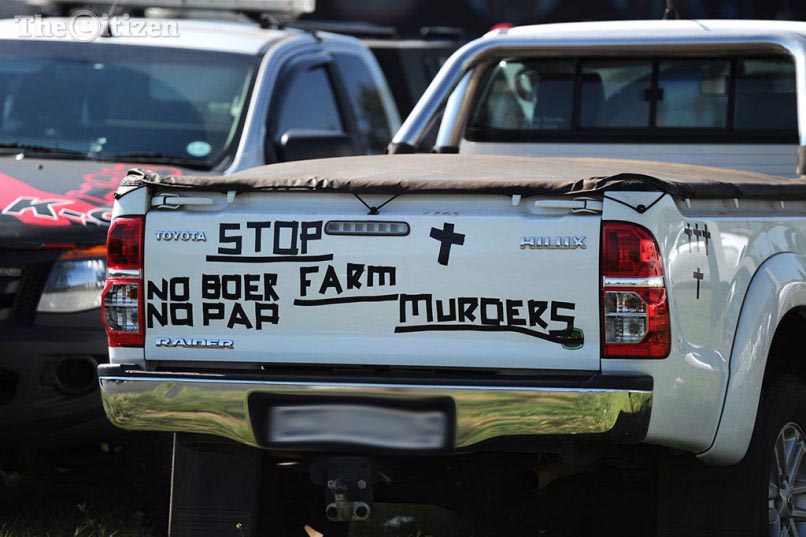 July 10 2018-Stone
BIG NEWS: Russia offers it's best land to White South African farmers
Russia knows a good prospect where there is one, and is offering free land and sanctuary to all White South African farmers, in some of Russia's most premium farmland. The land has been offered in the Vologda region between St. Petersburg and Moscow. 30 families have been accepted so far (in the last couple days) to lay the groundwork for the rest to arrive.
A couple years ago Putin opened up Eastern Siberia, offering 2.5 acres to anyone who wanted to settle there. This deal for WHITE south Africans who want to bring their farming skills to Russia is a much better deal. In my opinion (Jim Stone), this is a great strategic move by Putin.
Supporters of the #BlackMonday picket along Hendrik Potgieter Road, 30 October 2017, as they protest against farm murders. Picture: Michel Bega
A delegation of Boers recently travelled to the world's largest country to consider taking their money and escaping from farm murders and expropriation.
The world's largest country, Russia, which remains relatively underpopulated for its size, is reportedly considering welcoming thousands of white South African farmers into its borders to boost its agricultural industry.
A group of about 15 000 farmers have reportedly offered their services to the country, to go and farm in the south, while investing their savings in the country and offering English lessons as well.
According to a Russian news channel, the plan is for the first 30 families to first establish themselves before more follow.
"A delegation of Boers arrived in Stavropol with a proposal to open a migration channel," reports the channel, Rossiya 1 TV.
News footage showed the delegation being warmly welcomed.
The report suggests the farmers are primarily from the Free State, which the Russian journalist incorrectly refers to by its colonial name "Orange Free State".
Farmer Adi Siebus told the Russians they were now seeing the move as a matter of life and death owing to the ongoing killings on farms from criminal attacks and the fact that South African politicians have allegedly been stirring up hatred and a "wave of violence".
South Africa is considering changing the constitution to make expropriation of land without compensation easier.
The Boers were apparently inspired by a German farming family who moved to Russia.
They said Stavropol has a great climate for farming and each family is said to be willing to bring at least R1.4 million ($100,000) with them to lease land in Russia and kick-start their farming efforts.
Watch the news report below:
Meanwhile, parliament is due to hold hearings on land reform next week.
The Constitutional Review Committee recently held a nationwide tour of public hearings on the possible review of section 25 of the Constitution to make it possible for the state to expropriate land without compensation.
This after the National Assembly and the National Council of Provinces resolved to mandate the committee to review section 25 of the Constitution.
The section could be amended after parliament voted in favour of an Economic Freedom Fighters motion on land expropriation without compensation.
Russia's humanitarian absorption of migrant refugees is being weighed after a series of murders the South African government has been accused of encouraging, and that have made farming in South Africa the most deadly occupation in the world.
South African farm killings, where victims are typically members of the country's white, Afrikaans-speaking minority, are often extremely brutal in nature, involving prolonged periods of torture.
According to Breitbart, 1,187 farmers, 490 family members, 147 farm employees, and 24 farm visitors are known to have been murdered between 1998 and the end of 2016 — although the true figure is estimated at between 3,000 and 4,000.