We've said it before, folks. Rita Katz and Pam Geller are anointed pushers of the fake war on terror and in their case promoting Muslim false flags and fear mongering. What the WN community is calling Conspiracy theory, we are stating the obvious. Jews have been orchestrating false flags and staged events in unprecedented proportions with a history that goes back hundreds of years. While folks like "The Daily Slave and Stormer" prefer to take any Jewish lie and use it for their particular agendas, it has always been our belief that the Jew always wins if you accept the initial Jewish lie as a starting point.
Of course the temptation for many folks supposedly resisting is that once they leave the initial lie premise unchallenged, they can then be part of the "fake debate" and build reputation points in the Jew World Order. The fact that they also carry Jew water by relegating critical thinking skills about false flag events to being tin foil hatters, is, sadly to say, employing Jewish tactics in service to the Jew.
Not only do they express their discontent but advise shunning the "hackers of the Jewish modus operandi" thus making them Jew dupes or Jew ops. here's an example of Andrew Anglin shunning John Friend in a recent article discussing Friend's firing:
"Friend, you might remember, I used to be friends with. Though I still think he's a very nice person – "Friendly Friend," we used to call him – I decided to professionally distance myself from him due to his focus on conspiracy theories."
Of course when Anglin says conspiracy theories, he means any false flag that has occurred in the last seventy years and that includes 911. Of course, recent questionings of obvious false flags, of which 911 was one, are much more effective than talking about the holocaust due to the fact that so many have a gut anti-semitic reaction to the accusation. Don't get me wrong, all Jewish lying should be outed where you can work it in because that is what their rule over us is based on. False flags and staged events are their MO for accomplishing a lot of that.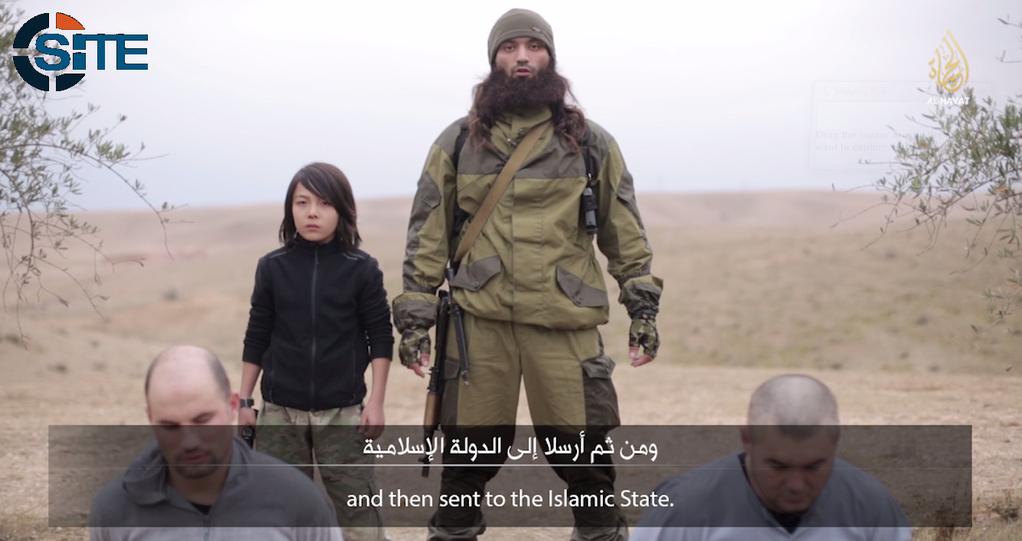 This brings me to lovely Rita Katz, the Mossad operative that runs site intelligence whose main assignment is keeping goy who want to rule themselves properly boot heeled down and propelling Muslims in the news as the biggest terrorist threat. It all goes along with the assumption that 911 happened as claimed by the government and a powerful reason why that false flags should never be ignored to make another point.
We have pointed out the likelihood that almost all of the be-heading videos made for prime time were brought to out attention through Rita's Site Intelligence and Rita has also been trying to end free speech on Twitter by following supposed Jihadi tweets referring to nefarious aims. We questioned her role in this area pertaining to the false flag at Arlington Texas last spring.
Recently, Joshua Goldberg has made the news as a young conservative Jew living in Florida, getting caught for planning a 911 bomb attack. It's been confirmed and illustrated in this article below that "Australi Witness", who is Goldberg, was outed by Miss Katz as a prime mover in Islamic circles. One has to wonder how a Miss Katz can not get bothered with tracing the IP before she gets into such claims. Maybe because it's all a con?
One must question whether the other Jihadis she is promoting are similar in nature to Goldberg, ops masquerading as terrorists who have not been outed yet.Anyway, Miss Katz is thoroughly outed here folks though I am sure she will claim being fooled-enjoy!
Australian Twitter user encouraged Islamic State fighters to attack prophet Mohammad cartoon contest in Texas: report
Texas officer 'probably saved lives'
Officer who shot dead two gunmen outside an anti-Islam art show in Texas "did a very good job and probably saved lives€, says the Garland Police department.
An Australian Twitter user in communication with a man shot dead attacking an anti-Islamic meeting in Texas is a "prestige member" of a committed group of online international jihadists, according to a leading private intelligence analyst.
Rita Katz, executive director of the SITE Intelligence Group, said the tweeter known as Australi Witness, reportedly from Melbourne, had a "prestige" position in online jihadi circles and was, "part of the hard core of a group of individuals who constantly look for targets for other people to attack" and actively seeks recruits for the Islamic State.
Investigators box up an assault weapon outside the Curtis Culwell Centre in Garland, Texas, after two men were killed in an attack on a provocative contest for Prophet Mohammed cartoons. Photo: AP
"They are working non-stop to incite other attacks," she said.
Asked if she knew if American government agencies were monitoring his activity she said they struggled to keep track of American activity, let alone follow global chatter.
"The Australians are having problems following their own guys, you want [the Americans] to follow them too?," she told Fairfax Media.
"This is a whole totally new war and it is being fought on Twitter.The bodies of gunmen Elton Simpson and Nadir Soofi are removed from behind a car during an investigation by the FBI and local police in Garland, Texas
"There are thousands of new accounts being created every day." The FBI, CIA and Garland Police have not yet responded to requests for comment.
An aerial view shows the car that was used the previous night by two gunmen, who were killed by police.

The SITE Intelligence Group is based just outside Washington, DC, tracks terrorist networks and activity online and through social media. Ms Katz has acted as a consultant for US government agencies and foreign governments and testified before Congress on online terrorist activities.
"Australi Witness" posts as a "Soldier of #IS and advocate of #Sharia4Australia" and was one of several social media accounts to call for an attack on the Texas community centre hosting an exhibition of cartoons of Prophet Muhammad.
The tweeter posted a map of the community centre where the shooting happened and shared calls for Islamic State fighters and supporters to attack "with your weapons, bombs or with knifes", The Australian has reported. It said Australi Witness was from Melbourne.
An image provided by Site Intelligence Group linking one of the Garland gunman to an Australian Twitter account.
In turn some of his posts were shared by an American man identified on his Twitter feed as "Sharia is Light", who claimed credit for the attack before it happened, describing himself and an accomplice as "mujahideen".
Soon after the attack, Australi Witness tweeted:
May Allah (SWT) reward the #Garland mujahideen with a seat right next to the Prophet (PBUH) in Jannah.

— Australi Witness (@AusWitnessAU) May 4, 2015
And fours after that, posted:
May Allah (SWT) exterminate all those who insult the Prophet (PBUH) & give Jannah to all those who defend the Prophet's (PBUH) honour.

— Australi Witness (@AusWitnessAU) May 4, 2015
Australian authorities are looking intently at whether the Twitter user behind "Australi Witness" has broken new laws passed last year by the Abbott government, Fairfax Media understands.
Last year, the federal Parliament passed new laws against advocating terrorism, which broadened the circumstances in which prosecutions can be launched against people who encourage, promote and urge extremist violence.
Under the changes, prosecutors no longer have to prove that the person who carried out the attack was directly influenced by the advocate, as was previously the case under the narrower definition of "incitement". Rather, the advocacy itself is an offence.
The change aimed to close a gap in the law that became conspicuous through social media platforms such as Twitter. One prominent case involved the well-known extremist preacher Musa Cerantonio, who exhorted his thousands of Twitter followers to violence but was not liable for prosecution because it was too difficult to prove that any one of his followers had carried out an attack because of his tweets.
Any prosecution against "Australi Witness" would likely have to tackle complicated questions including whether sharing tweets posted by other users constitutes an endorsement of those messages, and how that sharing relates to tweets posted by the user himself.
The event, in which attendees were to present cartoons of Muhammad in competition for a $US10,000 ($12,745) prize, took place in the suburb of Garland, outside Dallas, on Sunday, local time, Two men armed with assault rifles drove up to the building and opened fire, wounding a security guard, Bruce Joiner.
An officer with the Garland Police returned fire with a handgun, killing both men.
"He did a very good job, and probably saved lives," a Garland Police spokesman said at a news conference on Monday.
Authorities have now identified one of the men as Elton Simpson, 30, of Phoenix, Arizona. The second man has been reported to be his flat-mate, Nadir Soofi.
Mr Simpson faced charges in 2010 of travelling to Somalia to engage in "violent jihad" but was only convicted of lying to an agent and was sentenced to three years' probation, The New York Times reported.